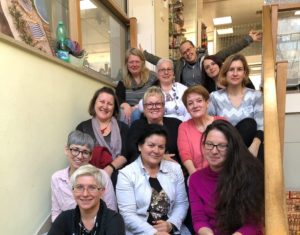 Ljubljana is a beautiful small city above the river Ljubljanica. It is the capital city of Slovenia.
The clayers are precize and very quick, almost as the Czech girls. I taught two workshops there – small friday workshop and weekend workshop.
I am very happy that Polyform Products donated the Premo clay for workshop, and for some people it was the very first time they worked with Premo clay! Thank you Polyform 

Also, Nemravka donated the workmats for precise cutting of the geometric patterns – thank you so much! 

I really enjoyed everything about Ljubljana, specialy the differences between our languages. Thank you Kitty, Kate and Alenka for organization and for a beautiful gift
All photos find here